MAJOR PROJECTS DURING 2015-2016
1. TARGETTTED INTERVENTION PROJECT-HIGH RISK GROUP"INJECTING DRUG USERS" (PREVENTION OF HIV/AIDS)
Arguably this is the socially one of the most important and difficult project Krishna Foundation has ever undertaken. This project was first awarded to us in 2008 and due to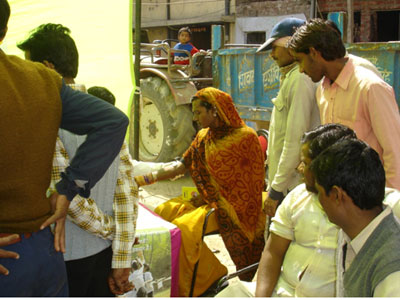 the whole-Hearted support from Governing body under the leadership of Dr.S.K.Tiwari our organization stood among top performers in its class during Annual evaluation form Delhi state Aids Control Society. In current year the rate of HIV Positive target population has substantially come down(in the year 2015-2016) to about 1%due to our effective Needle Syringe Exchange programme and other support services at our Drop in Centre. In 2008 HIV prevalence rate in our area was about39% which was highest in Delhi.We have tied up with Aganwadi center in order to get food for our subjects in the Drop-in center at Vishawas Nagar Shahadra. For regular Health checkup, a Qualified Doctor conducts OPD thrice a weak at our Drop-in Centre. This clinic also specializes in providing treatment for Sexually transmitted diseases and infections to Injecting drug users. We are also linking Injecting drug Users to oral opioid substitution therapy centers in order to restrict transmission of HIV in highly vulnerable population. This project has been awarded to us by Delhi State Aids Control Society and National Aids Control Organization under National Aids Control Policy III, which envisages provision of specialized Target Intervention with particular emphasis on High Risk Groups in order to prevent, control HIV/AIDS and to reduce harm ton High Risk Groups. Our High Risk Group is "Injecting Drug Users".IDU's have been an ostracized part of the society due to stigma attached with HIV/AIDS as well as drug usages. However the services provided to them generate awareness and help reduce the spread of HIV/AIDS.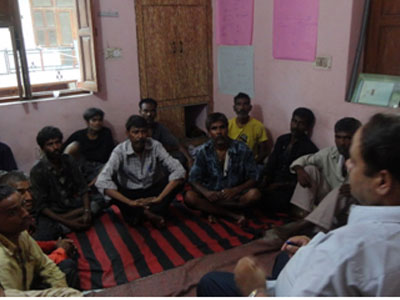 To manage the project we have a professional staff, continuously trained by Technical Support Unit of NACO/DSACS. We have a project office and a Drop-in-Centre for High Risk group which facilitate the following:
Community Mobilization
Behavioral change communication
Detoxification
Harm reduction through Needle Syringe Exchange program
Abscess Management and prevention
The Drop-in-centres offer specialized counselling services as well a Information about the transmission of HIV/AIDS including safer Injecting practices and safer sexual behaviour in order to prevent HIV/AIDS.
2. GENDER RESOURCE CENTRE – SUVIDHA KENDRA
Effective from 1st September 2010, We were awarded prestigious project of GRC-SK under Mission Convergence under Govt. of NCT, Delhi. This project has been extended till 31st March 2016. Here we are providing support services regarding various schemes to identified vulnerable population as per their entitlement at their doorstep. These schemes are under Following Govt. of NCT, Delhi departments
Health
Urban development,
Social welfare,
Welfare of SC/ST,
Women and Child development,
Labour
Food and civil supplies,
Education & IT
legal
The other components of services which we are providing for vulnerable population (Specially for women) are Health Services, Vocational training and skill development, Nutrition camp, Legal awareness and assistance, Non formal Education, Community Outreach, formation and strengthening of self help groups etc.
This GRC is located at Mandawli,IP extension,Delhi covering adjoining area's of west Vinod Nagar, Shakarpur, Pandav Nagar, Ganesh Nagar etc.This project aims to achieve Millennium Development goals ie.
To eradicate extreme poverty and hunger
To achieve universal elementary education
To promote gender equality
To improve maternal health
To combat HIV/AIDS, Malaria and other fatal diseases
To strengthen Bhagidari
To ensure environment sustainability
3. GENDER RESOURCE CENTRE EXTENSION CENTRE – NEW DELHI
At Krishna Foundation Extension center at Chanakyapuri New Delhi we are extending almost all facilities, as provided in our GRC at Mandavli, to all accessible slum area's of New Delhi.
We are functioning from allotted government accommodation at Bapu Dham to operate GRC-SK – Extension centre at Chanakyapuri,New Delhi. We have taken rented place at Sanjay camp JJ cluster to run NFE/remedial/adult classes in order to provide better access to vulnerable community.
Apart from implementing various schemes of different Delhi Govt departments, we are also successfully running schemes of vocational courses, Non formal education and Health OPD for the vulnerable population at New Delhi Extension Centre.
4. EXTENDING HELP TO WIDOWS, DESTITUTES AND NEEDY GIRLS AT VRINDABAN,MATHURA,UP
Krishna Foundation has a branch at 26,sector–II, Kailash Nagar, Vrindaban, District Mathura, UP. Being religious place helpless women, Down trodden, marginalized, ignorant and illiterate women frequently get victimized by local anti social elements. We provide food, Cloths and temporary shelter to these women along with social and moral support in order to help them to integrate in the main stream society with dignity. During the financial year 2014-2015 we could counsel and help about 125 needy women who were being victimized.
5. VOCATIONAL TRAINING PROGRAMME:
Krishna foundation is also providing help and support to poor and subjugated section of society through job oriented vocational training in the area in IP Extension and Mandavli area of East Delhi.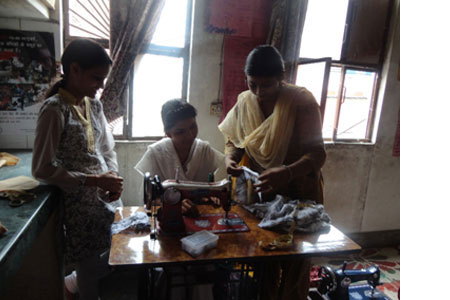 This programme is totally self funded by Krishna foundation and we provide vocational training specially to needy women in stiching,Embroidery, Zari work etc. and then help them to get jobs in various small scale industries. During financial year 2014-2015 we trained 246 needy girls in different trades.
In the year 2014-2015, Krishna Foundation provided training to175 subjects and 61 candidates were helped to get jobs in various industries and 81 girls started their own business.
SECRETARY
KRISHNA FOUNDATION